Available Filament:
Below are the available filament colors and types of plastics ranging from PLA Silks to flexible TPU and Engineering plastics such as PC and Nylons. At the end of this page you will find a brief description of each filament type and when you should use such filaments. Or if you prefer to watch a video, you can also watch the Guide to 3D Printing Filament at the bottom of this page.
Thank you All3DP.com for the filament descriptions and the 3D Printing Nerd for providing the video.
Silk Chocolate Gold (PLA)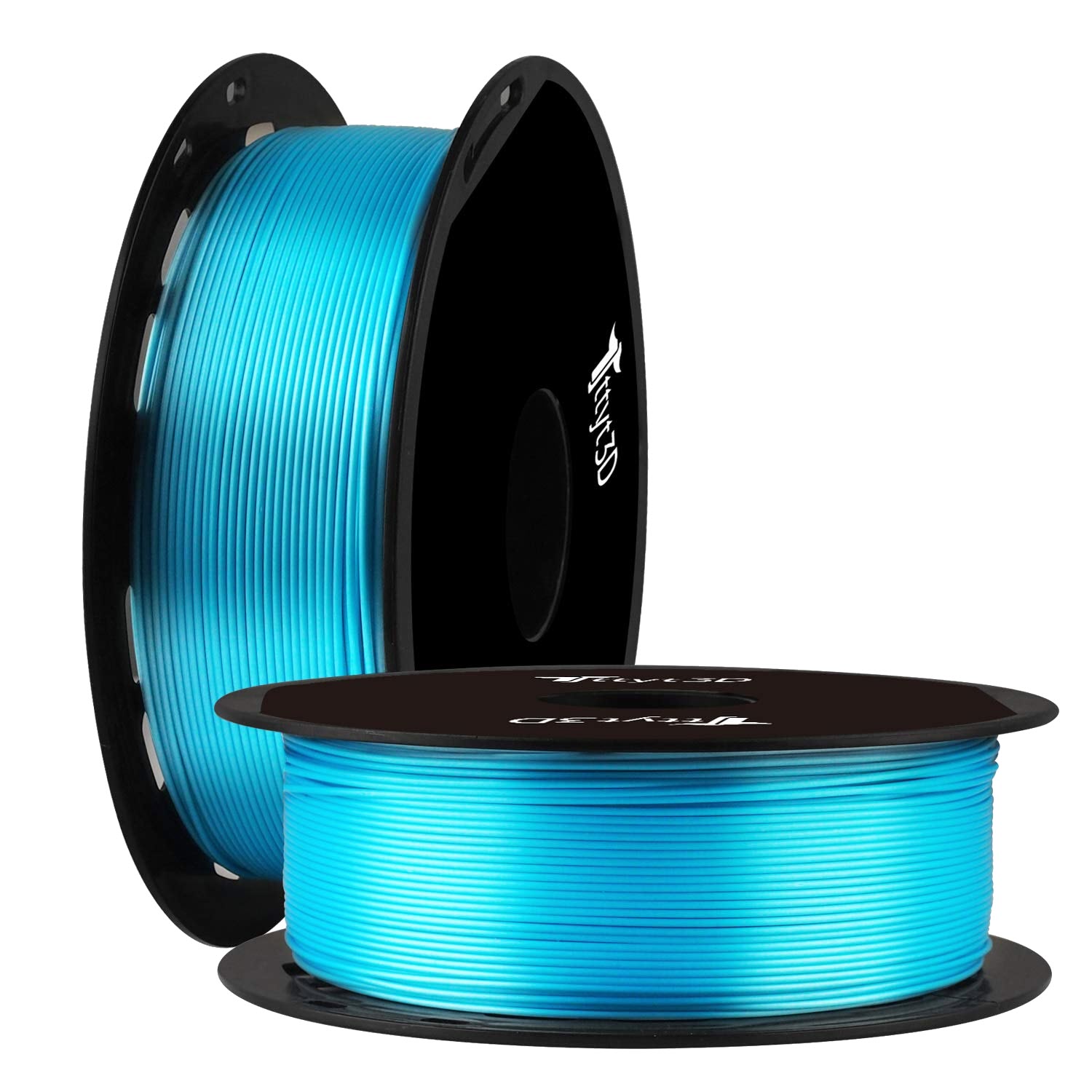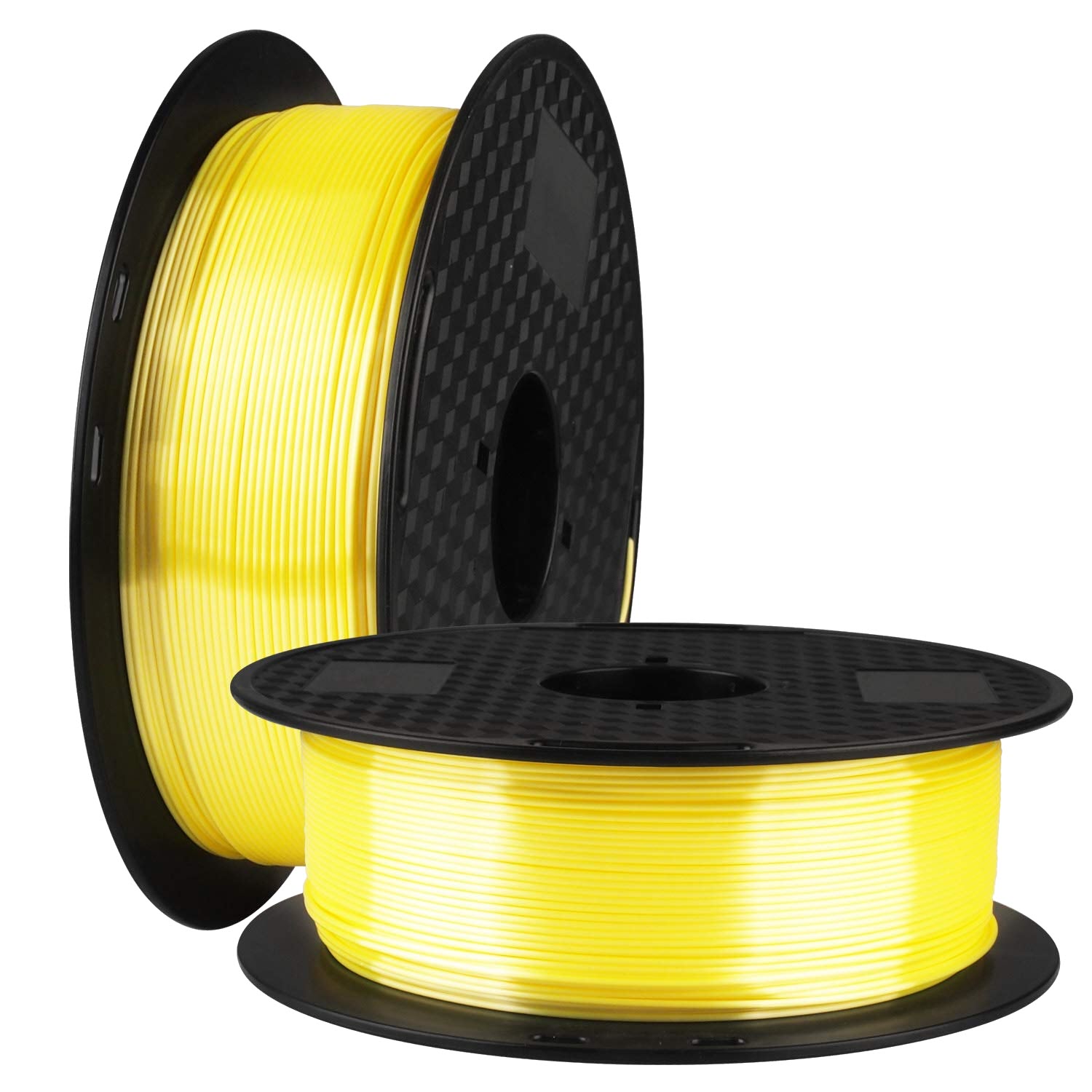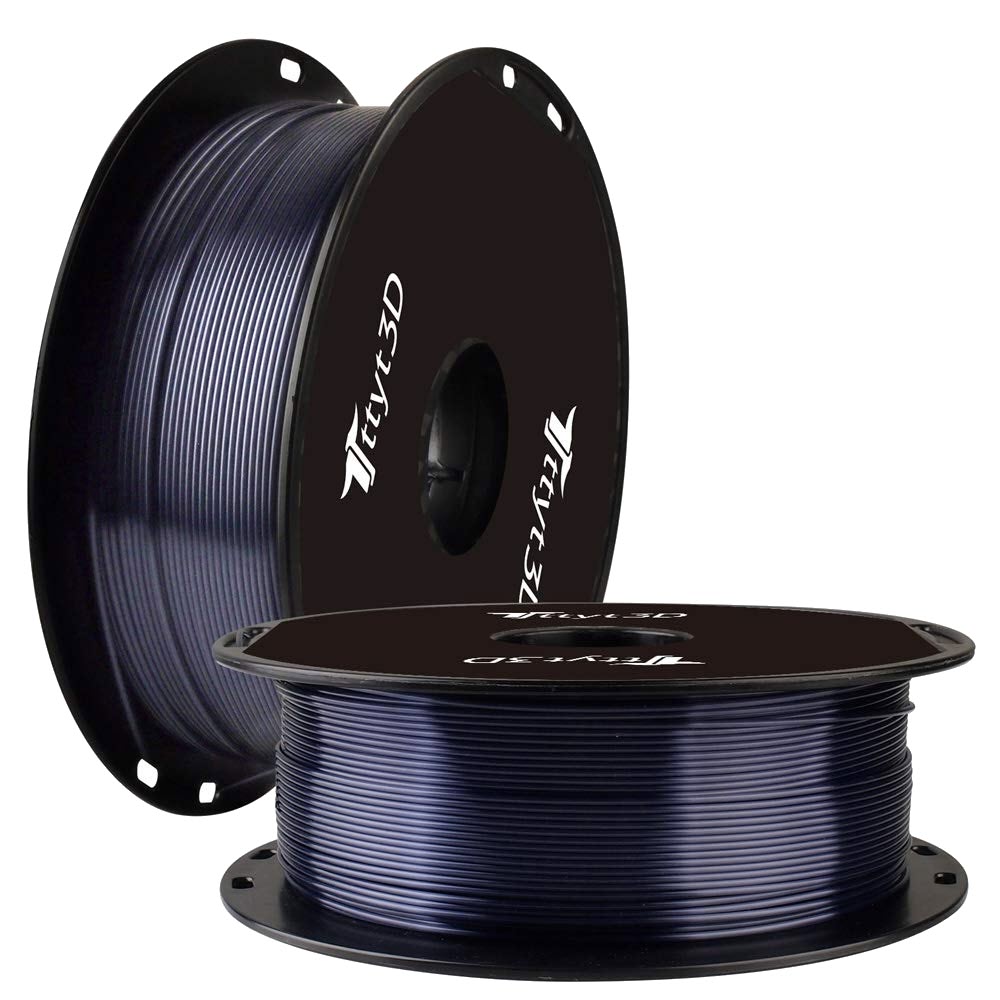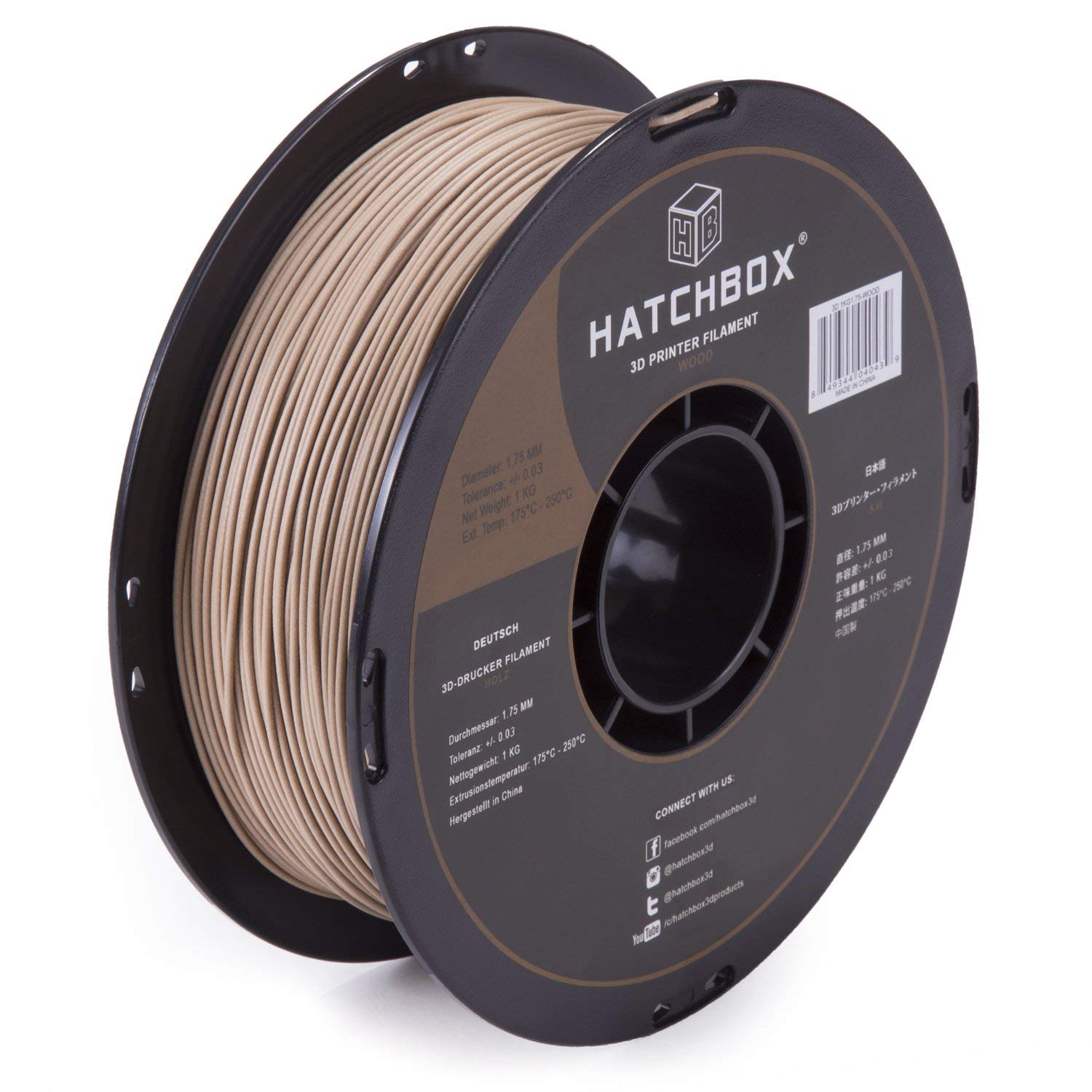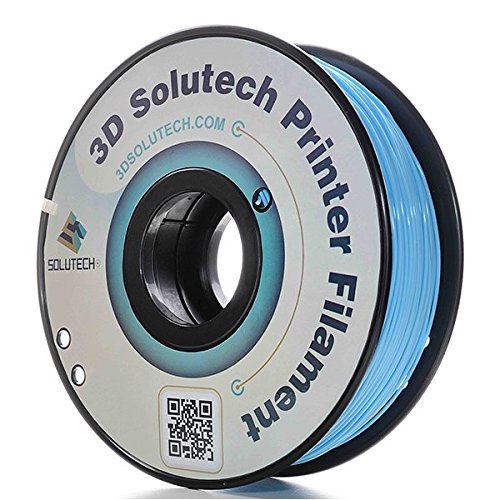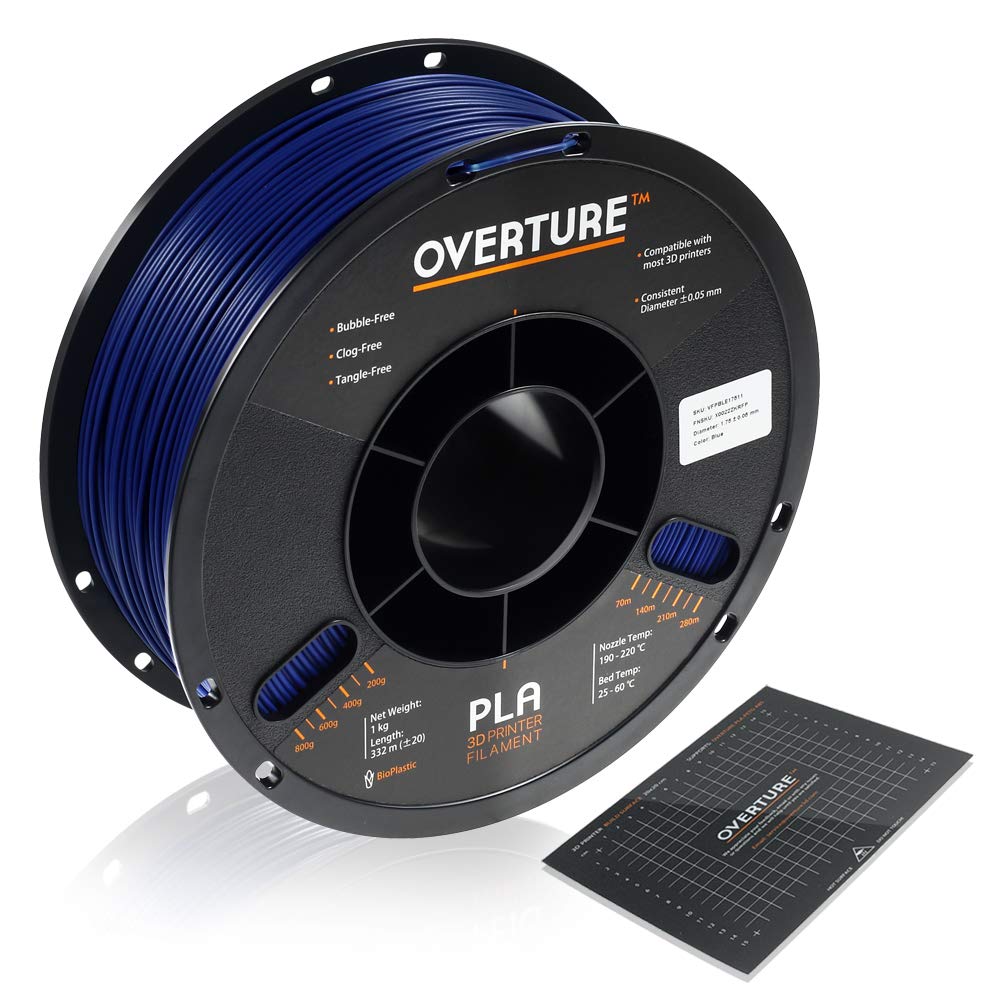 Glow in the Dark Blue (PLA)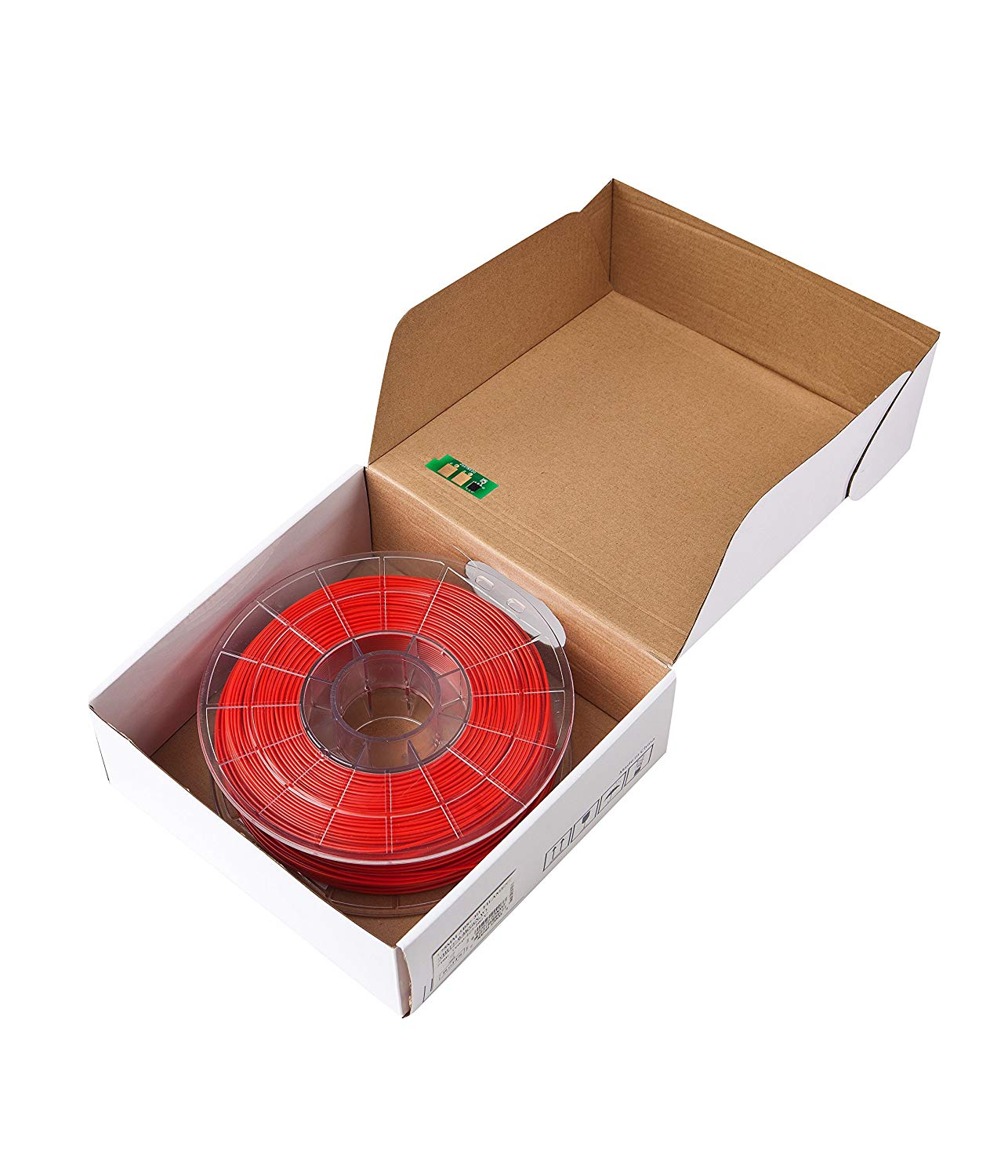 Which 3D Printing filament should you use?
PLA
WHAT IS PLA?
In the realm of home 3D printing, polylactic acid (PLA) is king. Although it's often compared to ABS – next in line to the throne – PLA is easily the most popular 3D printer filament type, and for good reason.
First and foremost, it's easy to print with. PLA has a lower printing temperature than ABS, and it doesn't warp as easily, meaning it doesn't require a heating bed (although it definitely helps). Another benefit to using PLA is that it doesn't give off an evil smell during printing. It's generally considered an odorless filament, but many have reported smelling sweet candy-like fumes.
Finally, as a biodegradable thermoplastic, PLA is more environmentally friendly than most types of 3D printer filament, being made from annually renewable resources such as corn starch or sugar cane.
Like ABS, PLA is the base material used in many exotic or recreational filaments, such as those with conductive or glow-in-the-dark properties, or those infused with wood or metal.
WHEN SHOULD I USE PLA 3D PRINTER FILAMENT?
In this case, the better question might be, When shouldn't I use PLA? Compared to other types of 3D printer filament, PLA is brittle, so avoid using it when making items that might be bent, twisted, or dropped repeatedly, such as phone cases, high-wear toys, or tool handles.
You should also avoid using it with items which need to withstand higher temperatures, as PLA tends to deform around temperatures of 60°C or higher. For all other applications, PLA makes for a good overall choice in filament.
Common prints include models, low-wear toys, prototype parts, and containers.
ABS
WHAT IS ABS?
Acrylonitrile butadiene styrene (ABS) ranks as the second most popular 3D printer filament, after PLA. But that just means it's the second most commonly used. With respect to its material properties, ABS is actually moderately superior to PLA, despite being slightly more difficult to print with. It's for this reason that ABS is found in many manufactured household and consumer goods, including LEGO bricks and bicycle helmets!
Products made of ABS boast high durability and a capacity to withstand high temperatures, but 3D printer enthusiasts should be mindful of the filament's high printing temperature, tendency to warp during cooling, and intense fumes. Be sure to print with a heating bed, and in a well-ventilated space.
WHEN SHOULD I USE ABS 3D PRINTER FILAMENT?
ABS is tough – able to withstand high stress and temperature. It's also moderately flexible. Together these properties make ABS a good general-purpose 3D printer filament, but where it really shines is with items that are frequently handled, dropped, or heated. Examples include phone cases, high-wear toys, tool handles, automotive trim components, and electrical enclosures.
WOOD
WHAT IS WOOD FILAMENT?
Interested in printing objects that look and feel like wood? Well, you can! It's not really wood of course – that wouldn't make for a very good 3D printer filament – it's PLA infused with wood fiber.
Many wood-PLA 3D printer filament blends exist on the market today. These include the more standard wood varieties, such Pine, Birch, Cedar, Ebony, and Willow, but the range also extends itself to less common types, like Bamboo, cherry, Coconut, Cork, and Olive.
As with other types of 3D printer filament, there is a trade-off with using wood. In this case, aesthetic and tactile appeal comes at the cost of reduced flexibility and strength.
Be careful with the temperature at which you print wood, as too much heat can result in an almost burnt or caramelized appearance. On the other hand, the base appearance of your wooden creations can be greatly improved with a little post-print processing!
WHEN SHOULD I USE WOOD 3D PRINTER FILAMENT?
Wood is popular with items that are appreciated less for their functional capabilities, and more for their appearance. Consider using wood 3D printer filament when printing objects that are displayed on a desk, table, or shelf. Examples include bowls, figurines, and awards. One really creative application of wood as a 3D printer filament is in the creation of scale models, such as those used in architecture.
METAL
WHAT IS METAL FILAMENT?
Maybe you're looking for a different type of aesthetic in your prints — something a little bulkier and shinier. Well, for that you can use metal. Like wood 3D printer filament, metal filament isn't really metal. It's actually a mix of metal powder and either PLA or ABS. But that doesn't stop the results from having the look and feel of metal.
Even the weight is metal-like, as blends tend to be several times denser than pure PLA or ABS.
Bronze, brass, copper, aluminum, and stainless steel are just a few of the varieties of metal 3D printer filament which are commercially available. And if there's a specific look you're interested in, don't be afraid to polish, weather, or tarnish your metal items after printing.
The most common 3D printer filament blends tend to be around 50% metal powder and 50% PLA or ABS, but blends also exist that are up to 85% metal.
WHEN SHOULD I USE METAL 3D PRINTER FILAMENT?
Metal can be used to print for aesthetics and for function. Figurines, models, toys, and tokens can all look great printed in metal. And as long as they don't have to deal with too much stress, feel free to use metal 3D printer filament to create parts with purpose, like tools, grates, or finishing components.
PETG
WHAT IS PETG?
Polyethylene terephthalate (PET) is the most commonly used plastic in the world. Best known as the polymer used in water bottles, it is also found in clothing fibres and food containers. While "raw" PET is rarely used in 3D printing, its variant PETG is a popular 3D printer filament.
The 'G' in PETG stands for "glycol-modified", and the result is a filament which is clearer, less brittle, and most importantly, easier to use than its base form. For this reason, PETG is often considered a good middle ground between ABS and PLA, the two most commonly used types of 3D printer filament, as it is more flexible and durable than PLA and easier to print than ABS.
WHEN SHOULD I USE PETG (PET, PETT) 3D PRINTER FILAMENT?
PETG is a good all-rounder but stands out from many other types of 3D printer filament due to its flexibility, strength, and temperature and impact resistance. This makes it an ideal 3D printer filament to use for objects which might experience sustained or sudden stress, like mechanical parts, printer parts, and protective components.
NYLON
WHAT IS NYLON?
Nylon, a popular family of synthetic polymers used in many industrial applications, is the heavyweight champion of the 3D printing world. Compared to most other types of 3D printer filament, it ranks as the number one contender when together considering strength, flexibility, and durability.
Another unique characteristic of this 3D printer filament is that you can dye it, either before or after the printing process. The negative side to this is that nylon, like PETG, is hygroscopic, meaning it absorbs moisture, so remember to store it in a cool, dry place to ensure better quality prints.
In general, many grades of nylon exist, but among the most common for use as 3D printer filament are 618 and 645.
WHEN SHOULD I USE NYLON 3D PRINTER FILAMENT?
Taking advantage of nylon's strength, flexibility, and durability use this 3D printer filament type to create tools, functional prototypes, or mechanical parts (like hinges, buckles, or gears).
TPU (Flexible)
WHAT IS TPE?
As the name implies, thermoplastic elastomers (TPE) are essentially plastics with rubber-like qualities, making them extremely flexible and durable. As such, TPE is commonly found in automotive parts, household appliances, and medical supplies.
In reality, TPE is a broad class of copolymers (and polymer mixtures), but it is nonetheless used to label many commercially available types of 3D printer filament. Soft and stretchable, these filaments can withstand punishment that neither ABS nor PLA can tolerate. On the other hand, printing is not always easy, as TPE can be difficult to extrude.
Thermoplastic polyurethane (TPU) is a particular variety of TPE, and is itself a popular 3D printer filament. Compared to generic TPE, TPU is slightly more rigid – making it easier to print. It's also a little more durable and can better retain its elasticity in the cold.
Thermoplastic copolyester (TPC) is another variety of TPE, though not as commonly used as TPU. Similar in most respects to TPE, TPC's main advantage is its higher resistance to chemical and UV exposure, as well to heat (up to 150°C).
WHEN SHOULD I USE TPE, TPU, OR TPC 3D PRINTER FILAMENT?
Use TPE or TPU when creating objects that need to take a lot of wear. If your print should bend, stretch, or compress, these are the right 3D printer filaments for the job. Example prints might include toys, phone cases, or wearables (like wristbands). TPC can be used in the same contexts, but does especially well in harsher environments, like the outdoors.
PC (Polycarbonate)
WHAT IS PC?
Polycarbonate (PC), in addition to being the strongest 3D printer filament presented in this list, is extremely durable and resistant to both physical impact and heat, able to withstand temperatures of up to 110°C. It's also transparent, which explains its use in commercial items such as bullet proof glass, scuba masks, and electronic display screens.
Despite some similar use cases, PC shouldn't be confused with acrylic or plexi-glass, which shatter or crack under stress. Unlike these two materials, PC is moderately flexible (though not as much as nylon, for example), allowing it to bend until eventually it deforms.
PC 3D printer filament is hygroscopic, able to absorb water from the air, so remember to store it in a cool, dry place to ensure better quality prints.
WHEN SHOULD I USE PC 3D PRINTER FILAMENT?
Due to its physical properties, PC is an ideal 3D printer filament for parts that need to retain their strength, toughness, and shape in high-temperature environments, such as electrical, mechanical, or automotive components. Also try to take advantage of its optical clarity in lighting projects or for screens.